Beverly Hills Hotel: World's Sexiest Pools
---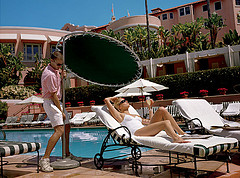 Conde Nast Traveler
recently scoured the globe to come up with
picks for the "world's sexiest hotel pools."
On the mag's top 10 list?
The Beverly Hills Hotel
, aka The Pink Palace, situated on 12 lush acres just off Sunset Boulevard smack dab in the center of Beverly Hills. Hollywood types have long flocked to this Tinseltown institution, and continue to enjoy the hotel's old-school glamour.
The Polo Lounge
has been a watering hole for generations of stars, and the pool is not any less of a hotspot. The poolside cabanas are the "main attraction,"
Conde Nast Traveler
dishes:
Elizabeth Taylor and Marilyn Monroe once showed off their assets in them, and they're still prime territory for fledgling celebrity romances and power deals. The lower poolside cabanas are $225 per day; $100 for those farther from the action. Famous regulars request their favorites well in advance, confident that no embarrassing shots of cellulite will show up on the pages of Us Weekly, thanks to the hotel's tight security. Amenities include secluded sunning spots, private phone lines, and attendants with chilled towels. Chaise longues are on a first-come, first-served basis. And movie tunes are piped in through an underwater sound system.
---