Best Bites in Las Vegas: Rao's at Caesars Palace Offers Backyard BBQ, Bocce Ball
---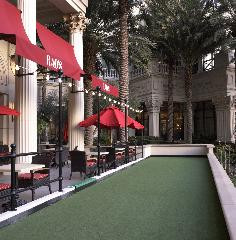 Nothing beats a little bocce ball and barbeque in the summertime.
Rao's Las Vegas
is heating things up with a new
"Bocce Bar & Grill Menu"
at
Caesars Palace
. Chill out by the pool and nibble some delish grilled offerings, sip some limoncello, and play a game of bocce ball. Overlooking the 4.5 acre Garden of the Gods pool complex,
Rao's
is the perfect summer destination. Available daily from 11:30 am to 3:30 pm (May 8 until September 8, 2008), the menu includes grilled faves like Italian sausages and peppers, Mediterranean herb-grilled chicken wings, and
Rao's
famous meatballs made into hamburgers. The specialty cocktail menu is just as tempting, featuring Danny Devito's limoncello, the Strawberry Amore (Stoli strawberry and Disaronno mixed with fresh strawberries and cream), Tuscan Kool-Aid, and the Pomegranate Bellini. Of course
beer buckets
are available too! To help guests cool off in the heat,
Italian ice
is served all afternoon.
Psst. Sexy "Bocce Bellas" help guests learn the game.
---