Bemelmans at The Carlyle, New York: World's Best Hotel Bars
---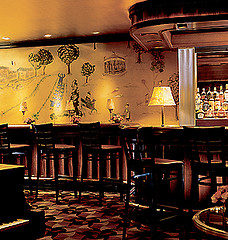 We're
not the only fans of Bemelmans, Manhattan's classic watering hole at
The Carlyle Hotel.
Named for artist Ludwig Bemelmans, creator of the
classic Madeleine books
whose colorful murals of Central Park adorn the space, the timeless bar has drawn movie stars and moguls for more than five decades, and consistently lands on
awards-lists
of the best hotel bars worldwide.
New York Magazine declares,
"Nowhere is the discreet charm of the bourgeoisie more palpable than in this bastion of post-war decadence: think white-jacket waiters, 24-karat gold leaf ceilings, and nickel-trimmed glass tables splayed around the ivories." At this favorite haunt on the Upper East Side, Brian Van Flandern serves up a mean martini. In fact,
Travel + Leisure praises Van Flandern as one of the world's finest barkeeps.
After all, he does concoct homemade tonic water using quinine powder imported from Brazil and tracks down rare 19th-century bitters when re-creating classic drink recipes. Here's his signature cocktail, courtesy of
T + L
:
Agave Gingerita

* 1 egg white 1/2 oz. fresh lime juice

* 2 oz. Don Julio Blanco 100 percent Agave

* 1 oz. fresh-squeezed ginger juice

* 1/2 oz. agave nectar

* 1/16 oz. Amaretto

Shake egg white and lime juice in Boston shaker tin until frothy. Add ice and remaining ingredients and shake vigorously again. Serve in rocks glass with candied ginger garnish.
---