Bardessono, Napa Valley: The Greenest Luxury Hotel in America?
---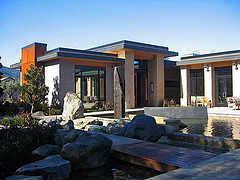 There's a new luxury hotel on the scene in Yountville and it's causing quite the stir. Perhaps the
greenest luxury hotel in the country
,
Bardessono
has a carbon footprint of just about zero, and is thus pursuing LEED Platinum certification. Developed by Phil Shelbourne and designed by
WATG
, the 62-room hotel has 82 geothermal wells, 940 rooftop solar panels, motion-controlled LEDs and CFLs, dual-flush toilets and low-flow fixtures, and drought-resistant landscaping. Talk about commitment to environmental sustainability.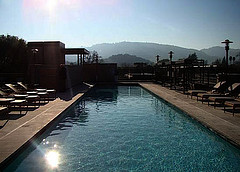 The San Francisco Chronicle has the skinny on Bardessono's spa:
Robert Redford and his lady friend were there for the February opening of this eco-luxury hotel built on five acres of a historic Yountville wine family farmstead. Perhaps its most unique feature is its sleek guest accommodations, all of which double as in-room spas. A massage table slides out of a cabinet, and a steam shower and 120-gallon bubble tub for two sit three steps away for after your treatment of choice. A spa butler sets you up for your in-room treatment, including providing the music of your choice. Plug your iPod into the docking station or opt for the hotel's music, where the choice can run from Bach to Bacharach. Treatments range from a basic massage (60 minutes/$125) and a wrap of enzyme-rich pumpkin and cranberry added on to any other treatment (30 minutes/$60). Or, after a dual massage, soak with your sweetie and a glass of bubbly in a tub filled with purifying bath salts containing essential oils of fennel, juniper, cypress, grapefruit and more (90 minutes/$195 per person).
---