Banyan Tree To Open Vineyard Resort in Baja California, Mexico
---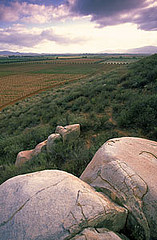 Beaches and whale-watching, sure. But Baja as a wine region? Who knew? Lapped by the Pacific on one side and the Sea of Cortez on the other, this desert peninsula is widely regarded as Mexico's premier wine region. (And definitely one worth watching.) Just a two-hour drive from San Diego, the Guadalupe Valley is the heart of it all.
Banyan Tree Hotels and Resorts
has partnered with
Monte Xanic
, one of Mexico's top winemakers, to build an exclusive vineyard resort there. The first luxury spa resort of its kind in the region, the new Banyan Tree will feature 40 pool villas nestled in the midst of the Monte Xanic vineyards. No word yet on an opening date.
---