Around the World Culinary Experiences at Viceroy Santa Monica
---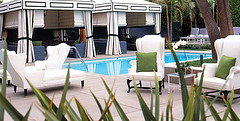 Foodies flock to
Whist
at
Viceroy Santa Monica
, ranked in the top hotel restaurants in the U.S. for its fabulous Modern American cuisine. In this stylish hot spot, Executive Chef Warren Schwartz serves up highly addictive bites using fresh local provisions. This summer,
Taste of Tuesday
transforms Viceroy Santa Monica's famed poolside into a gourmand's mecca; guests can relax by the pool while indulging in tasty treats every Tuesday from 5:30 p.m. until 10 p.m. Servers circulate small plates to accompany classy cocktails like the Bartinis-- a low carb/low calorie selection of martinis with flavors like blue raspberry, cranberry cosmo, and dessert key lime. In addition, guests at Viceroy Santa Monica can enjoy "Warren's Culinary Journal," a new menu at
Whist
showcasing recipes from the globe-trotting Executive Chef that he's collected on his extensive travels. Taste your way around the world without leaving the luxurious comfort of the
Viceroy
.
Related Articles:
Vagablond, "Viceroy Santa Monica : Posh, Sexy and Star Studded"
---