Announcing the Wine Merchant at Sutton Place Vancouver
---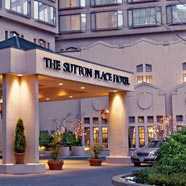 Construction has begun at the
Sutton Place Hotel Vancouver
, but not the kind that will drive guests away with closed guest rooms and amenities. The "
Sutton Place Wine Merchant
" is at the corner of Smithe and Burrard Street in Vancouver and will be an exclusive, retail wine boutique. Scheduled to open in July of this year, the "
Wine Merchant
" is on the ground level of
La Grande Residence tower of the Hotel
and will feature imported and domestic wines - many exclusive to Sutton Place. For the
winos
oenophiles out there-
Regular wine tastings will take place, along with seminars and information sessions on wine making and the wine industry. Membership on a mailing list will keep customers informed of new products, special events and activities at the boutique. The Sutton Place Wine Merchant will be open seven days a week in order to serve the community and guests of the Hotel.
---