An Interview with the GM: Mr. Martin P. Nicholson of The Langham, Huntington Hotel & Spa
---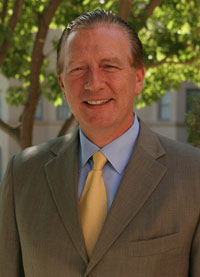 Mr. Martin P. Nicholson
is the General Manager at
The Langham Huntington Hotel and Spa in Pasadena, California
- a AAA Five Diamond hotel and member of Leading Hotels of the World. Mr. Nicholson recently took some time to sit down and answer a few of our questions.
Five Star Alliance: What do you consider to be the best rooms at The Langham, Huntington Hotel & Spa, Pasadena?

Martin P. Nicholson: All the deluxe corner rooms have wonderful views and natural light. Also, the ground floor rooms facing the Horseshoe Garden are excellent because they have lovely patios. I'm also partial to our Spanish-style Clara Vista Cottage and the Tournament of Roses suite atop the hotel.
If I were checking into a standard room in the hotel I would choose a corner room on the ground floor facing Horseshoe Garden or one on the upper floors facing Japanese Garden.
Five Star Alliance: Any interesting trivia or history about the hotel?

Martin P. Nicholson: The hotel was home to California's first Olympic sized swimming pool. At one time it extended beneath the picture bridge, where many guests couldn't resist the urge to jump off the bridge into the pool. In the late 1980's the pool was shortened along with a number of other renovations to meet earthquake code.
Five Star Alliance: Tell us what you feel is the most distinctive or unique feature of your hotel? What best describes the personality of the hotel?

Martin P. Nicholson: The hotel is unique in that it sits on 23 acres of land in the middle of an upscale residential neighborhood in Pasadena. The architectural design of the buildings, the lush gardens and beautiful landscape make our guests feel like they are in their own wonderland. The hotel has soul, personality, character and a rich history. It's a landmark hotel and is very much a part of the social fabric of community. Guest have celebrated weddings, graduations, cotillions and other personal celebrations for more than 100 years at this hotel, and it's nice to have such grand stories and strong ties to the community .
Five Star Alliance: What is the best thing about the hotel's location? What is your favorite thing to do in the surrounding area?

Martin P. Nicholson: The best thing about the hotel's location is that it's in a restful area. You can come here and feel like you're away from it all, yet you're close enough to Old Town Pasadena and Los Angeles to experience all vibrancy that these places have to offer.
My favorite thing to do in the surrounding area is play golf on the many fine courses in the area. I also like to motorcycle up in the foothills, to Ojai, down the coast, and in both Death Valley and Joshua Tree National Parks. California offers such diverse areas to explore and I love seeing all of it.
Five Star Alliance: If you were considering staying at the hotel as a guest, what would you want to know about the hotel before checking in?

Martin P. Nicholson: I would want to know about the extensive and lush grounds and gardens, about the Michelin Star-awarded Dining Room and The Huntington Spa. I would also want to know about the care and comfort that envelops you when you walk through the doors.
Five Star Alliance: Who are your customers and where do they come from?

Martin P. Nicholson: Approximately 60% of our guests visit from California. The other 40% come from the Tri-state area, the Midwest and Texas.
Five Star Alliance: What is the hardest thing about being General Manager? If you could change one thing about the hotel, what would that be?

Martin P. Nicholson: The hotel has a number of constituents: guests, owners, the community, employees and its brand. To address all stakeholders' concerns requires stamina and a significant amount of empathy - emotional empathy and also financial empathy. I need to ensure that everyone is "getting their money's worth," whether it be in terms of quality, profitability or wages. That, at times, can be a great challenge!
If I could change one thing about the property I'd add a golf course. Then the hotel would be a true urban resort.
Five Star Alliance: Other than your own, what do you consider among the greatest hotels in the world? Why are they special?

Martin P. Nicholson: Typically, I am impressed with hotels that have a sense of history and place, and I am more at home in smaller hotels that have an incredible amount of charm and quality of service.
The Langham, London, was the first purpose-built grand hotel in Europe and it must be experienced. It is the wellspring of our brand and embodies the spirit of Langham Hotels International.
The Oriental Hotel in Bangkok is a true masterpiece. Timeless elegance in one of the most spectacular settings on the Chao Phraya River.
The Hassler Hotel atop the Spanish Steps in Rome has been owned by the same family for many years and they have beautifully retained its charm. The hotel has a rich sense of history and pays attention to every detail to make your stay special. It must be seen to be believed.
Montpellier Plantation Inn on Nevis Island is an exclusive 17-room English country house hotel on a bluff overlooking the ocean. The views are breathtaking. Admiral Lord Nelson and Fanny Nisbet celebrated their wedding breakfast after their ceremony at Pear Tree Church.
Five Star Alliance: How did you come to be General Manager of the hotel?

Martin P. Nicholson: My first year at college in Dublin I had a summer job at a hotel called the Russell Hotel. It was a famous, grand hotel at the time but, unfortunately, is no longer there. I liked the job so much that I decided to change majors at college and went on to graduate from Shannon College of Hotel Management in Ireland and later the Advanced Management Program for the Hospitality Industry (AMPHI) at the University of Guelph in Ontario, Canada.
I've been fortunate enough to live and work all over the world, which has provided me with a wealth of cultural and life experiences that I will cherish forever. I started my career at a resort on Tortola in the British Virgin Islands, and then spent a few years as a Food & Beverage Director in Toronto, Canada. I moved up to be General Manager of the Delta Ottawa Hotel in Ontario, Canada, and later spent some years as Vice President and General Manager at Caneel Bay in St. John. I also worked at luxurious properties in Ireland and Jamaica but my four years in Carmel introduced me to the beauty of California. I was eager to get back, so when the General Manager position at The Ritz-Carlton, Huntington Hotel in Pasadena became available, I was able to seize the opportunity.
I worked as General Manager of The Ritz-Carlton, Huntington Hotel for about two and a half years, and in January 2008, Langham Hotels International acquired the property. Langham is committed to maintain the property as a five diamond hotel and invest significantly in the physical assets and service levels in the years to come.
---