An Interview with the General Manager: Marty Wall of The Woodlands Resort & Inn
---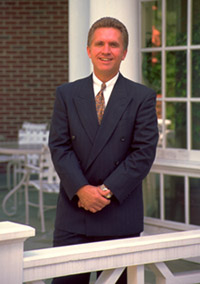 The Woodlands Resort & Inn
is one of only three lodging properties in America to be awarded the Mobil Five-Star and AAA Five Diamond awards for both lodging and dining - in large part to
Marty Wall
, General Manager and InnKeeper of the property. Mr. Wall took some time to answer our questions below.
Five Star Alliance: Tell us what you feel is the most distinctive or unique feature of your hotel? What best describes the personality of the hotel?

Marty Wall: By far the most distinctive characteristic or feature of the Inn is the attitude and desire to serve that exist within the staff. We have blended together personalities from all around the world who enjoy what they do and challenge themselves each day to provide the highest level of service in the most friendly and genuinely sincere manner. The service and facility would be best described as residential versus the typical commercial hotel environment. Our goal is that each guest feels that they have been invited to spend the night with family versus just buying a hotel room. Woodlands is essentially their home away from home.
Five Star Alliance: Who are your customers and where do they come from?

Marty Wall: Because of our membership in Five Star Alliance, Virtuoso, Andrew Harper, and Relais & Chateaux, as well as our many national and international awards, our guests really come from all parts of the world. Also because of our very celebrated culinary team under the direction of Executive Chef Tarver King, many of our guests are here to experience what has been recognized as one of the top dining rooms in the country.
Five Star Alliance: Can you share the names of any famous guests who have stayed in the hotel, or perhaps regulars that return on a periodic basis?

Marty Wall: There have been several movies filmed in the Charleston area and as a result we have had a number of celebrities stay with us. In an effort to protect their privacy and in hopes that we see them regularly, we prefer not to mention specific names.
Five Star Alliance: What is the best thing about the hotel's location? What is your favorite thing to do in the surrounding area?

Marty Wall: The Inn is actually located in Summerville, SC which is a charming bedroom community to historic Charleston. The area is rich in history and has also become a very desirable dining destination. Visiting the many historic sights, eating at the many wonderful restaurants and enjoying the numerous outdoor activities provide plenty of options for guests of all ages.
Five Star Alliance: Which do you consider to be the best rooms in the house? Not just the suites, but also any particular standard rooms that have great views or unusual advantages? If you were checking into a standard room at the hotel, which one would you request?

Marty Wall: We believe all of our rooms are special and each one offers something a little different or unique. Because the original house was constructed in 1906 a couple of the rooms in the original section offer distinctive features. The most noted being our 3rd floor suite that is often referred to as the "honeymoon suite". It offers a larger living room area, lofted bedroom, beautiful bathroom with a large Jacuzzi tub and the best feature is the spiral staircase leading to the "cupola" which overlooks the entire house and most of the grounds.
Five Star Alliance: Can you mention any interesting miscellaneous trivia regarding the hotel? Perhaps a bit of history? Any special events that have taken place on property?

Marty Wall: In that the original home was built in 1906 there is a lot of history within the walls. The original owners used the house for numerous events to entertain the country's military troops during the war. The house was also regularly used to host lavish debutant parties for many of their local friends and families.
Five Star Alliance: If you were considering staying at the hotel as a guest, what would you want to know about the hotel before checking in?

Marty Wall: If I were checking in I would definitely want to know just how outstanding the restaurant is.
Five Star Alliance: How did you come to be General Manager of The Woodlands Resort and Inn?

Marty Wall: After spending several years in large luxury hotels, primarily in large urban environments, and after the birth of our third child, I was searching for a place that would provide balance in the business that I love and with my family which is as it should be, the most important thing in my life. I thought a smaller market and a smaller facility would be the answer. I had no idea I would find a place as special as Woodlands in a community as special as Charleston, South Carolina.
Five Star Alliance: What is the hardest part about being General Manager? If you could change one thing about the hotel, what would that be?

Marty Wall: There is nothing hard about my job... I LOVE what I do!!!
Five Star Alliance: Other than your own, can you share your choices of two or three of what you consider to be the greatest hotels in the world? And why you think they are special?

Marty Wall: It would be hard for me to choose just 2 or 3 great hotels as there are so many incredible places in the world. Every new luxury hotel being built today is trying to provide something unique or special that you can not find anywhere else. That is what keeps us all on our toes and makes if difficult to pick what is the best... it will change tomorrow.
---