An Interview with the General Manager: Heinrich Morio of the Jumeirah Beach Hotel
---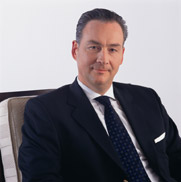 Heinrich Morio
, born in the United States to German parents in 1960, joined Jumeirah in the position of General Manager Operations in October 2004. He brings over 25 years of operational experience all of which was spent in some of the finest luxury hotels including
Hotel Vier Jahreszeiten
in Hamburg,
Plaza Athenee
in New York, Turnberry Isle in Florida,
One&Only Le Saint Geran
, Mauritius, Ritz Carlton in New York and
The Peninsula in Beverly Hills
.
Prior to joining Jumeirah, Heinrich held the position of General Manager of One&Only Le Touessrok, Mauritius where he successfully directed the closure, re-opening and re-positioning of the hotel, as well as General Manager of the One&Only Ocean Club, Bahamas and Little Palm Island, Florida Keys. Heinrich holds a Bachelor of Science degree in Hospitality Management from Florida International University, Miami.
Five Star Alliance: How did you come to be General Manager of the hotel?
Mr. Heinrich Morio: I started working in the hotel industry approximately 30 years ago, over the years I have worked in many different functions including restaurants, kitchen and reception. I have worked my way up in the industry and I have now realized my dream of managing a luxury hotel.
Five Star Alliance: Tell us what you feel is the most distinctive or unique feature of the Jumeirah Beach Hotel? What best describes the personality of the hotel?
Mr. Heinrich Morio: The architecture of the hotel in itself is very distinctive and unique. It is designed to reflect the shape of a breaking wave which has become an instantly recognizable symbol of Dubai.
In addition, we are unique in the fact that all of the 617 rooms, suites and villas at Jumeirah Beach Hotel have stunning ocean views across the beautiful Arabian Gulf, this feature is a favorite amongst all of our regular and first time guests.
Five Star Alliance: Can you share the names of any famous guests who have stayed in the hotel, or perhaps regulars that return on a periodic basis?
Mr. Heinrich Morio: All of our guests are important to us and we have many guests who return to us on a regular basis. We provide all of our guests with the level of service that they would expect to find in a five star luxury hotel and we also respect the privacy of all guests.
Five Star Alliance: Which do you consider to be the best rooms in the house? Not just the suites, but also any particular standard rooms that have great views or unusual advantages? If you were checking into a standard room at the hotel, which one would you request?
Mr. Heinrich Morio: All of our rooms are extremely spacious and provide a minimum of approximately 50m2 of living space. Full advantage has been made of the fact that all of our rooms are ocean facing and each room has floor to ceiling windows which mean that guests have maximum enjoyment of the spectacular panoramic views.
For the ultimate in luxury the villas at Beit Al Bahar (Arabic for 'House by the Sea') are perfect for guests searching for a truly personal, uniquely special holiday hideaway. Each villa benefits from a private plunge pool and an unparalleled level of service which means that Beit Al Bahar is known as one of the regions most luxurious private retreats.
Five Star Alliance: Can you mention any interesting miscellaneous trivia regarding the hotel? Perhaps a bit of history? Any special events that have taken place on property?
Mr. Heinrich Morio: Our impressive conference centre is Dhow shaped and has hosted some of Dubai's most spectacular and significant events. The conference centre has a ballroom space of 1332m2, a tiered auditorium that seats 416, two floors of dedicated conference facilities and custom-built executive boardrooms.
Another interesting feature of the hotel is the large sculpture in the atrium that shows the original destinations that Emirates flew to when the hotel first opened ten years ago. If we tried to update this sculpture to reflect the current destinations that Emirates fly to today, this would be extremely difficult due to the vast number of routes now in operation.
In addition there is also our iconic beach front location which is simply stunning, the hotel boasts over 3800m2 of beautiful outdoor beach and garden areas.
Five Star Alliance: If you were considering staying at Jumeirah Beach Hotel as a guest, what would you want to know about the hotel before checking in?
Mr. Heinrich Morio: Jumeirah Beach Hotel provides guests with the ultimate in luxurious family resort style accommodation, in addition to our stunning beaches and rooms we also have a world class conference facility, Pavilion Sports centre, dive facility, private marina and over 20 restaurants and bars. The extensive choice of dining options at the hotel and range of international cuisine of offer is sure to satisfy any guest.
Our guests are also provided with the opportunity to upgrade for the duration of their stay to become a Club Executive or Premium Leisure Club guest. These options provide access to additional facilities such as the tranquil Executive Pool and the Club Executive Lounge.
In addition to the above, high on my priorities would be knowing what the weather forecast is for the duration of my stay!
Five Star Alliance: What is the best thing about the hotel's location? What is your favorite thing to do in the surrounding area?
Mr. Heinrich Morio: The hotel is ideally located on Jumeirah Beach and our popular beach front restaurants all have stunning views of the spectacular Burj Al Arab. We are very centrally located and all of Dubai's attractions, including the amazing shopping malls and world class golf courses are only a short taxi ride away. We are also only 20-30 minutes drive from the airport.
Wild Wadi Water Park is an integral part of the resort and is located right next door to the hotel, all Jumeirah Beach Hotel guests receive unlimited access to the water park for the duration of their stay.
My favorite way to spend time in the surrounding area is to take a visit to Bab Al Shams for a unique desert experience. Jumeirah Bab Al Shams Desert Resort & Spa is an elegant desert resort in a traditional Arabic fort setting and is perfect for a relaxing retreat away from the city.
Five Star Alliance: Who are your customers and where do they come from?
Mr. Heinrich Morio: Over the past ten years we have welcomed guests from all over the world, many of our guests come from Europe and we have lots of visitors from the UK, Germany and Russia. Our excellent family facilities mean that we have lots of families who visit the hotel, many returning on a regular basis. In addition our superb conference facilities are used by a wide range of guests attending private and corporate events of all sizes.
Five Star Alliance: What is the hardest part about being General Manager? If you could change one thing about the hotel, what would that be?
Mr. Heinrich Morio: Over the last ten years Jumeirah Beach Hotel has undergone continuous growth and development, we deliver an excellent level of service which is largely due to our fantastic colleagues. If it were not for our exceptional colleagues then my job would be much harder!
Five Star Alliance: Other than your own, can you share your choices of two or three of what you consider to be the greatest hotels in the world? And why you think they are special?
Mr. Heinrich Morio: For me Jumeirah Emirates Tower is the finest business hotel in the world. It is very popular with frequent business travelers and is ideally located in the heart of Dubai's commercial district.
The Madinat Jumeirah is one of the most impressive and fascinating resorts that I have ever visited. Known as The Arabian Resort of Dubai the hotel is a magnificent tribute to Dubai's heritage and is styled to resemble an ancient Arabian citadel. The hotel offers the height of opulence and with two grand hotels, superb facilities and a traditional souk the Madinat Jumeirah really is unique.
---