Amtrak Goes Luxe with Vintage Pullman Train Service
---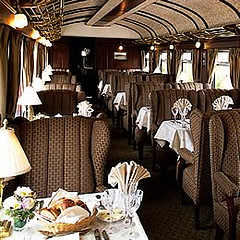 No joke. America's favorite slow-poke of a train,
Amtrak
, has announced plans to bring back the luxurious train journeys of old. This Fall,
Amtrak will launch a three month test
of luxury service on three different train routes: Amtrak's Silver Meteor (Washington to Miami through West Palm Beach), the Southwest Chief (from Los Angeles to Chicago), and the California Zephyr (from Chicago to San Francisco). What's in store for passengers? Seven vintage Pullman cars, richly decorated in the manner of the great Pullman trains of the 1920's, will be attached to the back of these Amtrak trains. In addition to serious pampering, passengers will enjoy a lounge car with live music and a dining car that offers five-course meals. Amtrak hopes that the new luxury service will allow discriminating travelers to slow down, enjoy the journey, and escape the hassle of peak time holiday travel.
---