A Weekend with the Girls at The Sagamore Hotel
---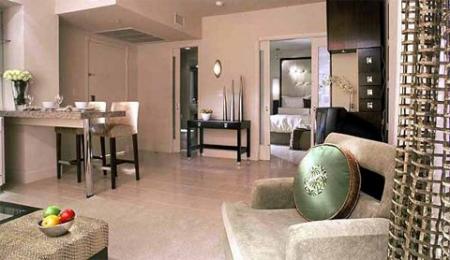 From Victoria Winters
This past April I attended my girlfriend's bachelorette party in Miami, and naturally we stayed in South Beach. I had been to South Beach once before (for a the World Adult Kickball Competition I was in ... I kid you not), but was looking forward to a more upscale and relaxing vacation this time around with just the girls. We booked 2 rooms (414 and 416 at around $500 total per room) at The Sagamore Hotel for 8 women, each room was equipped with two double beds and a pull out couch. We arrived on a Thursday and stayed through Sunday.
Known as "The Art Hotel" I have to begin with the hilarious art work in the lobby. My friend and I probably spent the first 30 minutes at The Sagamore looking at photos upon photos of naked people.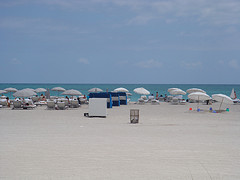 Don't get me wrong this is tastefully done, but you would be amazed by how many people stripped down to their birthday suits for these photos….good way to avoid tan lines, I guess! Throughout the hotel (hallways, bathrooms, elevators…etc) you will constantly be engaging in new art mediums which makes for a really cool and interesting stay to say the least.
Besides staring at nudes... I also managed to experience the hotel restaurant, Social; lounge by the pool (and eat and drink poolside); go for a run at the gym; and take in some rays at the beach. The following is a list of pros and cons from my experience with the girls:
Pros:
Excellent location (close to Lincoln Ave and all the hot night spots)

Nice size suites (heard they are larger than the Delano)

Excellent beds and comfortable bedding

Pull out couch in each room

Large L-shaped couches in rooms great for large groups and entertaining

ipod docking station in each room with great speakers

Separate toilet from bathroom

Refrigerator with a good size freezer

Excellent kitchen space for entertaining

Excellent service all around

Relaxing pool environment, not a pool "scene"

Poolside bar & grill serves great drinks and food

Private/designated beach area for guests

Beach chairs (2 per room, additional chairs $15) and umbrella (1 per room)

Interesting artwork throughout the hotel
Cons:
Darks halls

Single and shallow pool

Odd layout of furniture in the rooms

Weak hairdryers, if traveling with 2 or more women bring an extra

Bad lighting in the bedroom near the mirrors which made getting ready with a group difficult

Small gym with little equipment

Good number of children at the pool (although if traveling with children this might be a pro)

Social – restaurant is very cool but over priced for the food they serve
Would I go back to the Sagamore Hotel with the girls? Definitely! We loved that it wasn't "the place to be seen" which was exactly what you want the morning after a bachelorette party.
---