$69 Per Person: Girls Night Out in South Beach at Miami's Sagamore Hotel
---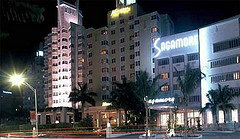 Take the girls for an end-of-summer fling to South Beach and score an awesome deal with
The Sagamore
, one of the hottest hotels in South Beach. You'll love the outdoor pool, striking suites (with whirlpool tubs), and private collection of art and photography at this unique beachfront address. Even better- the hotel has a great location in the middle of all the action.
The Sagamore Miami Beach
, selected by Conde Nast Traveler in 2003 as one of the top twenty hottest beach resorts in the world, has designed a
"Girls Night Out" plan for the month of September 2008, priced at just $69 per person (slightly higher on weekends, at $95 per person).
This rate is based on 4 gals sharing a private, two-story poolside bungalow, and also includes: continental breakfast, disposable cameras (to record your late-night carousing), a round of martinis at the hotel's bar, and VIP admission to three local clubs- Opium Garden, Prive, or Mansion- with access to the VIP room.
---