40 Years of Travel Sweepstakes: Win a Free Trip to Virginia
---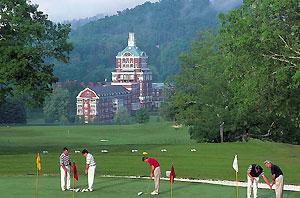 To celebrate the 40th birthday of the "Virginia is for Lovers" marketing campaign,
Virginia.org is giving away a free trip (incl. airfare!) with the 40th anniversary sweepstakes.
From the Chesapeake Bay to the Blue Ridge Mountains, from adrenaline-pumping activities to lounging on the beach or sipping Cabernet Franc at myriad vineyards, Virginia is a traveler's dream. Not to mention all that heritage for history buffs.
Enter the sweepstakes
and you could be the lucky winner of one of many Grand Prize trip options, including "Southern Sophistication at the Homestead," 
the fabled resort
in the Allegheny Mountains (pictured at right) that's pampered a distinguished clientele since 1766, when visitors first came to "take the waters" at the natural hot springs. The prize will be awarded on February 20th.
---