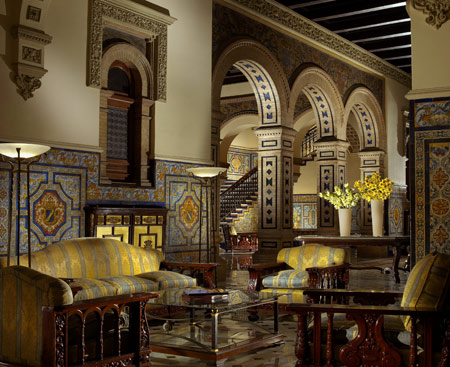 Seville, the capital of Andalusia, is a historic city with tiny, winding, bustling streets and a rich culture symbolized by Moorish influence. If you're in search of an energetic nightlife or a cultural excursion to discover some of the most renowned monuments in all of Europe, consider visiting the heart of Southern Spain.
In the center of Seville lies Hotel Alfonso XIII, named after the king who commissioned it 83 years ago. This luxurious hotel offers rooms with varying themes and styles including Isabelline Baroque, Moorish, and Castillian. Hotel Alfonso XIII is situated downtown, just minutes from the Royal Alcazar Palace and the Plaza de España, making this hotel the perfect, centrally located destination.
Seville has an incredible charm emanating from the streets, and the people have a very relaxed attitude about life. I encourage you to fully embrace the culture and see a flamenco show, or try the pairing of green olives with beer, or sip on a Tinto de Verano, which is a light, refreshing blend of red wine and lemon soda.
Be sure to get your shopping done in the morning or evening, as many store owners close down their shops for a few hours in the afternoons for a siesta. My recommended hotel is currently closed for renovations, but it'll reopen in March 2012, just in time for the beautiful spring months and Semana Santa, which is one of the most significant, traditional events in Seville. Can't wait that long? Consider some of the other incredible resorts located all over Spain, and get ready for a fiesta!
---

Related Hotels