Go in My Stead: The Umstead Hotel and Spa
---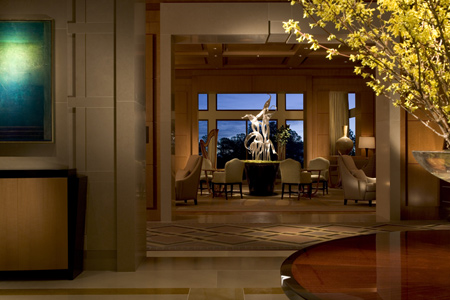 Spas are a funny thing. It's actually amazing to think that we live in a world full of all the modern luxuries, and yet we have to pay to escape to a simpler, more relaxed experience.  The spa is just that, too, quintessentially an escape, retreating inward to recharge the mind and the body during a moment's respite from the bustle of modern life. But, the fact remains, many of us are in desparate need of that retreat, and if you're looking to get away from everything, there's no better destination than the Umstead Hotel and Spa in Cary, NC. 
The hotel itself is gorgeous, was built in 2007, and features 228 oversized luxury guest rooms with all the modern amenities: flat screen TVs, Rivolta Italian linens, and many with balconies overlooking the natural flora.  World-class dining and a great respect for the local culture accent the property, with local artists featuring prominently and the down-home hospitality a guarantee.  
The real crowning jewel of the hotel is the spa.  The two-story building adjacent to the property offers ten treatment rooms where you can find the perfect personalized relaxation technique to wash the stress out of your body.  A meditation courtyard, whirlpools, and a steam room offer alternative ways to rejuvenate and recharge and the naturally lit interior spaces soothe the eyes as much as they do your soul.  The Umstead Hotel & Spa really is a wonderful place ot slough off your East Coast woes and embrace the healing powers of a day all to yourself.
---