Au Revoir, Hotel Ritz Paris!
---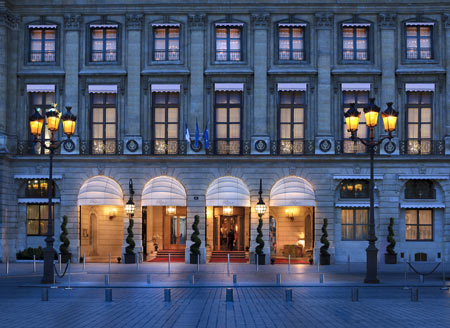 The Hotel Ritz Paris has closed its doors for an extensive 2 year renovation period on August 1st, 2012. Built in 1898, this stunning hotel has served as an opulent home away from home for familiar faces such as Marcel Proust, Coco Chanel, Elton John, and Oscar de la Renta. Below is a letter from the general manager sent out to guests:
The legendary Ritz Paris has closed its doors to embark on a two-year restoration program. Rooms, suites, restaurants and bars, the spa and the famous Ritz Escoffier cooking school will all be carefully restored and recreated under the direction of the internationally renowned interior designer Thierry W. Despont. We will ensure that the charm and personality of the Ritz Paris is kept alive and that we continue to satisfy even the most discerning travelers. We certainly hope that you will follow our progress on www.ritzparis.com or through our social media channels. All of us at the Ritz Paris are looking forward with great anticipation to welcoming you back in 2014 for the reopening of your home in Paris.
Sincerely, Christian A. Boyens, General Manager
Frank J. Klein, President
We hope the Ritz Paris can update its look without losing its classic French style and feel, and we certainly look forward to seeing how the renovations progress. Planning a trip to Paris now? Not to worry; we have 72 luxury hotels waiting just for you!
---

Related Hotels