Surf the Bar at Turtle Bay Resort
---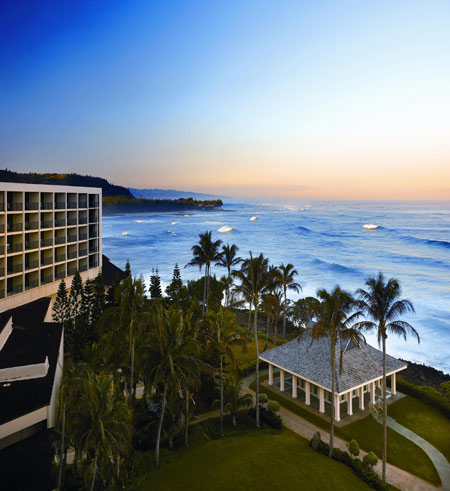 Turtle Bay Resort is renowned as the only resort destination on Oahu's Fabled North Shore. The location is a flashpoint of global surfing, and the hotel plays host to the legendary Hans Hedemann Surf Center. 
Given the hotel's close connection to surfing, the luxury beach hotel has paired up with Surfer the magazine to launch Surfer the Bar. Surfer is a partnership between Turtle Bay and Surfer magazine, the global bible of surfing culture. The drink of choice here is a 16-ounce pint of ice-cold beer, many of them local small-batch brews. The food is fresh, flavorful, sometimes spicy Hawaiian comfort food.

Surfer the bar has a stage for Hawaiian musicianship. In addition to scheduled performers, Surfer has quickly become a showcase for new talent as well as a platform for surprising, impromptu performances by celebrity musicians who like the Surfer vibe.
 Surfer the bar is also a screening room for international and local Big Wave filmmakers, documentarians and photographers who consider Surfer to be the perfect venue for sharing their craft with an appreciative audience who want to see the beauty, majesty and danger of the sea through the eyes of those who know it best.  It is a studio for live webcasting of some of surfing's biggest pro events and up-close-and-personal musical concerts. It is also a soapbox for TalkStory, a centuries-old Hawaiian tradition roughly meaning "to converse informally and openly as good friends do."
Even if you've never caught a wave, spend enough time at Surfer the bar and you'll feel as if you are a hanging ten hero. 
 
Current Nightly Rates at Turtle Bay Resort start at $197 per night >>
Share this article:
---