Top 5 Romantic Valentine's Day Hotels: #4 Gramercy Park
---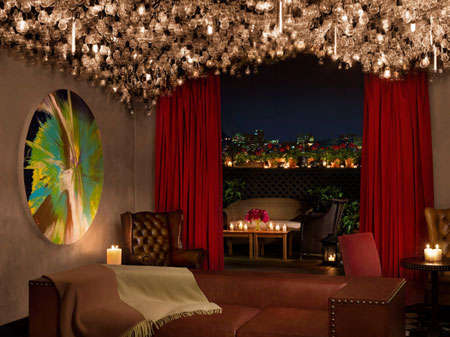 Valentine's Day is coming up, and, as such, it's time to think about where you'd like to spend the day with that special someone. Whether you're enjoying a cozy night in or an adventure on the town, a night in a luxury hotel can be the perfect gift to the both of you, a chance to escape to another world where no expense will be spared in giving you the night of a lifetime. What follows is just one in a series of our favorite romantic hotels, and, we think, a great place to take him or her this February the 14th.
Gramercy, as well as being what you show me every time I'm not called out for missing a comma, is a beautiful boutique hotel in the heart of Manhattan with an artsy soul and vivid decor. In selecting hotels for this list, we tried to capture the soul of the city.  Just as the Bauer Il Palazzo makes you feel Venice, Gramercy Park Hotel feels like New York. It's love and passion with attitude, the kind that stands outside your window with a boombox or fights an escaped lion for your affection. From the front door onwards, you'll be greeted with the joie de vivre of the New York  well known by romantic comedies. The best food, the best art, the best wine; New York wants to be the best in the world, and the Gramercy Park will show their best effort to give you your romantic New York fantasy.
The lobby itself plays host to an art exhibit featuring the likes of Andy Warhol, Damien Hirst, and Julian Schnabel, among many others.  Its 184 rooms and suites are decorated in a vivid Renaissance color palette, and hand-tufted rugs, mahogany cabinets, and velvet drapery complete the extravagant scene.  Big tubs and dark room are just what the doctor ordered for an intimate evening in.
If you're looking to head out, the candlelit Rose and Jade Bars downstairs are reservation only after 10pm, so you'll be guaranteed a more private experience.  And if you'd prefer the more intimate feel of a private club to the edgier downstairs bars, the Gramercy Terrace 17 stories above the city combines the finest of London clubs with the vibrancy of a Viennese coffeehouse.  
So if this Valentine's Day you're looking to declare your love clearly and boldly, show him or her the best of the New York nightlife.  Gramercy Park is vibrant, vigorous, and passionate, and staying there would be a night you wouldn't soon forget.
---