The New York Times Reviews The James Hotel New York
---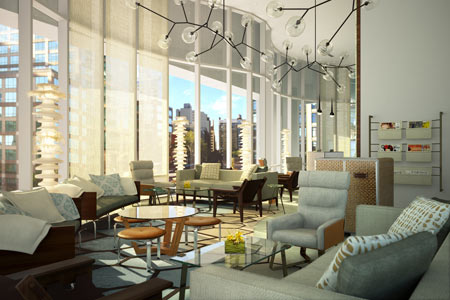 In typical New York Times fashion, Sunday's Travel section was a whopper. A fantastic piece on Paris by Matt Gross, Fall Foliage Deals in the "Practical Traveler" column, and "Caves and Kayaks in a Quiet Corner of Thailand." We were also pleased to see an in-depth review of one of our fave hotels, The James in New York. From its location at the edge of SoHo to its rooftop pool and art collection, it's hard to pinpoint what we love most about this place. Here's a memorable quote from the most venerable of papers:
...The hotel's striking lobby offers free use of Apple computers, alongside free happy-hour wine with snacks. Each floor features work by a different contemporary artist, with explanatory texts and mobile tagging. There's also a small rooftop bar and heated pool; a well-equipped gym; the Treetop terrace bar; and a restaurant, David Burke Kitchen, serving modern American fare. The mini-bar was chockfull of healthy organic snacks, as well as an "intimacy kit."...
Bottom line: If you picture life as a magazine spread-- where the architecture is modern, the art cutting-edge and everything else organic or free-range — then the James New York may fit you to a T.
Interested in seeing photos or booking the hotel? Click here.
---

Related Hotels