Shop 'Til You Drop at the Gramercy Park Hotel
---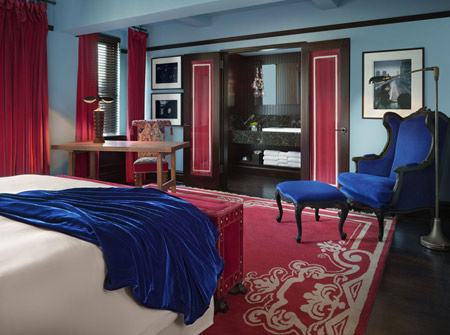 Instead of marveling at the furniture and décor of your room at the Gramercy Park Hotel, you can now take it all home with you! This luxury hotel in New York has rooms designed for you to shop, and everything you see from the nightstand to the bathrobe is for sale. Make your reservation, bring your checkbook, and get ready to furnish your home with all of your favorite findings at the Gramercy Park Hotel!
The Gramercy Park Hotel is located right on Gramercy Park, a short walk from Greenwich Village, Union Square, and the meat packing district. It has 184 rooms, suites, specialty suites, and a beautiful Penthouse all created by a collaboration of artists and designers. Each room has a distinguished and unique layout, embracing vivid colors and featuring distinctive art and objects. Guests enjoy rooms decorated with imported rugs, velvet drapery, custom hand-made furniture, and stunning photographs. Rooms are appointed with leather-topped desks, a mahogany English drinking cabinet, and top of the line bathroom products and amenities.
Don't miss out on this luxury hotel mall, and make your reservation for the Gramercy Park Hotel today!
---