Get to Know The Raj Palace
---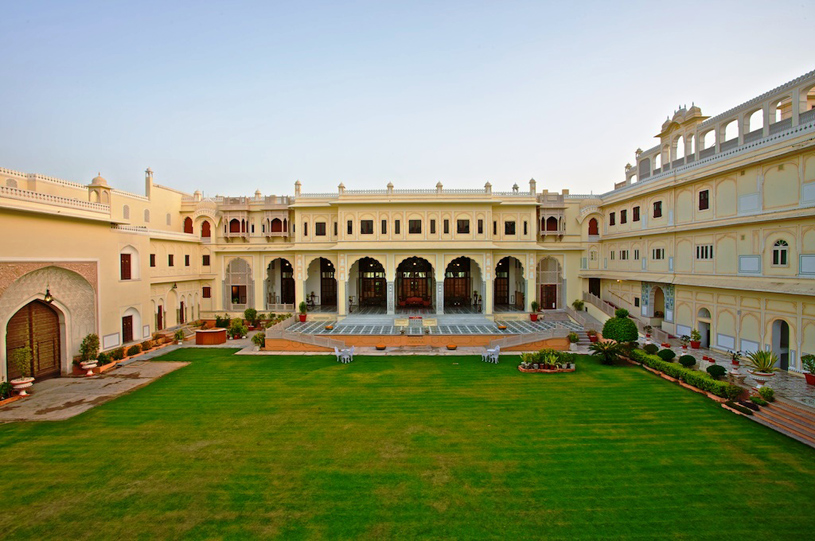 Raj Palace was made for royalty. A member of the Small Luxury Hotels of the World, the palatial luxury hotel has architecture that's not only stunningly beautiful, but also designed with a purpose. The Raj Palace was formerly a Maharaja's palace built in 1727 and was named World's Best Heritage hotel in 2011 by World Travel Awards.
The Indian nobility's belief in their divine right to power manifested itself in the planning of palaces. The palace was designed following architectural guidelines described in ancient Indian texts known as the Vastushastras some of which are more than fifteen hundred years old and was meant to be a physical and spiritual microcosm of the universe. The central courtyard of a palace was said to be the building's most powerful point, and always contained a representation of a prominent deity. Views of the courtyard and deity could thus be enjoyed from each of the palace's residential quarters.
Extremely preoccupied with palace security, Maharajas would also build fortified walls and gateways around their residences. These heavily guarded structures were architectural marvels in themselves, mammoth in size and wrought with complex geometric designs that communicated the authority of the royal family. 
The secret tunnels and doorways that abounded in Indian palaces allowed Maharajas easy access to their queens' quarters and provided them with quick getaways from public reception halls. More importantly, these clandestine passageways were a precaution against assassination plots and enabled a king and his entourage to slip in and out unnoticed.
In 1995, Princess Jayendra Kumari Ji decided to restore this luxurious palace into the finest luxury Palace hotel. The Royal family renovated the arched corridors, the residential quarters and its courtyards with small amplifications, Best services were added like Handicap access etc. Museum suites were created which have the finest Royal antiques giving the property the honor of being first museum suite palace hotel of the world as the suites have their private museum. The specially designed frescoes deciphered with the finest mirror and hand painted work and rare palace furniture , Large crystal chandeliers leave you adorned with an astonishing fantasy. The elegance personified and the renowned hospitality is served in its 40 well-appointed rooms and beautiful venues with extreme intimacy and caring personal service in the reborn Raj Palace.
View rates, details, and more photos of The Raj Palace >>
Share this article:
---

Related Hotels