Question: Which Luxury Hotel in Hong Kong for 2 Adults 1 Child
---
We recently received the following question from a Five Star Alliance client:
I am travelling to Hong Kong in early - to mid August with my wife and 7 year old daughter. I want my wife & daughter to have a wonderful luxurious stay in Hong Kong. My wife needs shopping areas nearby and my daughter would love a luxury hotel with bathtub. We all prefer a Continental Buffet Breakfast. Please kindly provide your suggestion as to which of the following luxury hotels I should book for my family in Hong Kong. They are first time visitors to HK & I want their stay as wonderful as I can.
Our response was as follows: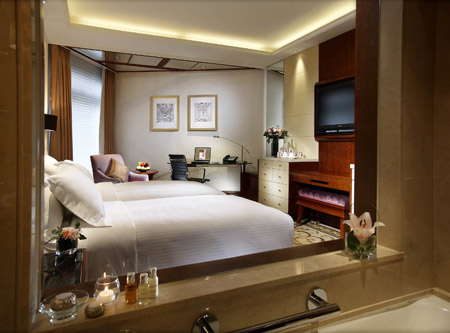 The Langham Hong Kong
The following rooms allow 2 adults and 1 child (under 12): Deluxe Room, Deluxe Langham Room, Grand Room (Premier), Executive Suites, Penthouse Suite, Vogue Suite, Premier Suite, 2 Bedroom Penthouse Suite. All rooms include deep bathtub and freestanding shower.
The Langham is close to the Tsim Sha Tsui shopping area (Harbour City, ELEMENTS, Granville Road, Canton Road and Nathan Road).
The Family Plan: Children below the age of 12, and staying in their parents' room can enjoy a complimentary extra bed (maximum one child per room).
The Family Wonderland Package includes: Round trip pick up either by limousine or seven seated van, Complimentary internet access in all guest rooms and public areas, Daily breakfast buffet for two adults and one child, Three hours of free baby-sitting service per stay (subject to availability and upon request), Tiffin afternoon tea at Palm Court, Complimentary cartoon DVD rental, Charming 'Theodore' Pin & Back pack welcome gift, No handling fee for Ocean Park tickets purchased from the hotel, Concierge Desk, Welcome fruit plate, Daily local newspaper, Complimentary access to 24 hours gym and Outdoor Swimming Pool.
The Perfectly Langham Package includes: Daily Breakfast in Palm Court for 2 adults (child cost extra).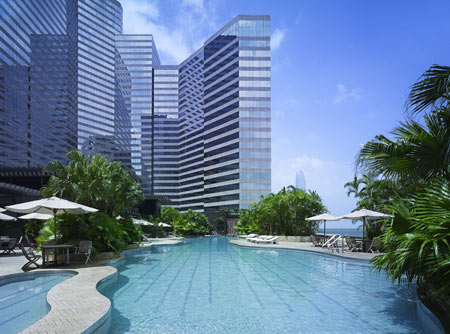 Grand Hyatt Hong Kong Hotel
The following rooms allow 2 adults and 1 child (under 12): Grand King, Grand Twin, Grand Harbor King Bed, Grand Harbor Twin, Club King, Club Twin, Club Harbor King, Club Harbor Twin, Grand Executive Hbr Suite. Rollaway Beds: not available for double rooms, fees may apply. All rooms offer marble bath with separate tub and shower.
The Grand Hyatt Hong Kong is close to the Wan Chai shopping area (Tai Yuen Street), Causeway Bay shopping area (Fashion Walk, The Lee Gardens, Lee Theatre Plaza, Times Square, Windsor House, wtc more, Jardine's Crescent), Admiratly shopping area (Pacific Place), and Central shopping area (Li Yuen Street East and West).
The Bed & Breakfast package (if available for the dates you check) offers the following: Breakfast daily for 2 adults, 2PM late check out subject to availability, Breakfast served in Grand Cafe or in-room dining. Full breakfast featuring a range of international and traditional Chinese breakfast selections - Valid 7 days a week.
Do you have other suggestions for this family with 2 adults and 1 child looking for a luxury hotel in Hong Kong? Let us know >>
---