The World's Best Business Hotels

Our favorite luxury business hotel recommendations!
Looking for the lap of luxury after grueling business meetings abroad? Our extensive list of the world's best business hotels is key for the tireless executive who commands an easy and relaxing stay while travelling.
A great majority of our favorite luxury business hotels are found in the heart of busy business districts where sprawling urban environments offer reliable access to city splendors, historic sites, and convention centers. These hotels maintain their effervescent glow at night as they shimmer with the white lights of sumptuous luxury and class.

With extensive meeting and banquet facilities, the hotel can accommodate every type of event from small business meetings to large social gatherings. For the business traveller in Tokyo, the hotel also has a full-service Business Centre, open 24 hours daily.


Dubai, United Arab Emirates
Voted the Best Business Hotel in the Middle East and the Best Business Hotel in Dubai in 2007 by the Business Traveller Awards.


Washington, DC, United States
While working on your laptop (the hotel offers complimentary high-speed Internet access), enjoy unobstructed views of the White House, Lafayette Park, and St. John's Church.


Standing apart in service, its facilities and of course, in its distinguished patronage, this hotel has played host to Heads of State, corporate moguls and high profile businessmen from across the world.


Along with some of the most advanced office equipment, the professional staff offers a wide range of secretarial services to meet all your business needs.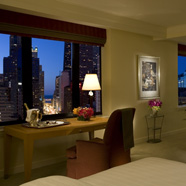 Chicago, IL, United States
State-of-the-art technology in the heart of the financial district of Chicago, and within walking distance of The Loop, The Merchandise Mart and Lake Michigan.


Guests can now connect to the virtual world more easily than ever situated on the corner of Brook Street and Davies Street and is within easy reach of Hyde Park, Park Lane, Bond Street and Oxford Street.


New York, NY, United States
Ideally located in the heart of New York City, offers an unbeatable location that has lured dignitaries, celebrities and world leaders for years.


New York, NY, United States
The hotel has established itself as the scene for high-powered meetings and high society soirees.


Situated at the crossroads of Singapore's business district, The Plaza is synonomous with sophistication, elegence, and luxury. Don't miss the executive club amenities.


This 5-star deluxe hotel combines state-of-the-art technology with tasteful decor to create a haven for the guests, welcoming both business and leisure travellers.


Enjoy a wide range of technological facilities for the business traveller and conference organiser.