The Best Boutique and Historic Hotels in Paris

It is no shock that the city known for its boutqiue shops and businesses offers some of the best boutique hotel properties as well. Paris is a destination not just for tourists but business travelers, couples, friends and even locals as well. Those travelers looking for intimate and luxurious hotel properties that distinguish themselves from the larger resorts or chain properties, need to look no farther then these boutique and historic properties listed below. All of these hotels in Paris, France will offer the highest level of service and amenities whether you are a business traveler looking for something more unique then the convention hotel or honeymooners looking for something classic and stylish.


L'Hotel
| Paris, France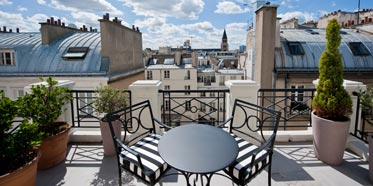 L'hotel has counted quite a few legendary celebrity among its guests and has been the scene of many extraordinary events (including the death of Oscar Wilde). Each of the 20 rooms has its own character, its own universe or is associated with a decorative detail. Located in the heart of Saint Germain Des Pres, on the left bank, among...
Le Roch Hotel & Spa
| Paris, France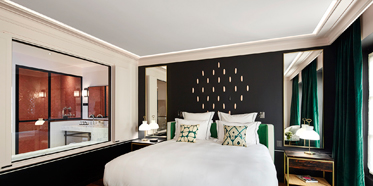 Nestled in the 1st Arrondissement's Saint-Honoré District, Le Roch Hotel & Spa offers an elegant setting designed by the famous French designer Sarah Lavoine. The property's 32 guest rooms and five suites combine chic and contemporary styles designed to inspire. Featuring five different color schemes, there is a delicate...
Nolinski Paris
| Paris, France

Opened in August 2016, moments away from the Comedie Francaise and the Palais Royal gardens, enclosed between layers of history and Haussmann elegance, lies a temple to art and life a la francaise: the Nolinski. Owned by the EVOK group, this breathtaking, characterful new boutique hotel bears the hallmark eclectic refinement...
Five Star Alliance Perk:
Guests that book through Five Star Alliance receive a welcome pastry or appetizer with personalized note from the management and a Gourmet basket "Souvenirs de Paris" by REJ (value 50 Euro). Also, guests will have a smartphone at their disposal which includes unlimited international phone calls and internet. For all hotel stays from July 15-August 31, 2019,  guests receive a complimentary Continental breakfast per person daily.