The Best Boutique and Historic Hotels in Paris

It is no shock that the city known for its boutqiue shops and businesses offers some of the best boutique hotel properties as well. Paris is a destination not just for tourists but business travelers, couples, friends and even locals as well. Those travelers looking for intimate and luxurious hotel properties that distinguish themselves from the larger resorts or chain properties, need to look no farther then these boutique and historic properties listed below. All of these hotels in Paris, France will offer the highest level of service and amenities whether you are a business traveler looking for something more unique then the convention hotel or honeymooners looking for something classic and stylish.


Hotel Lancaster
| Paris, France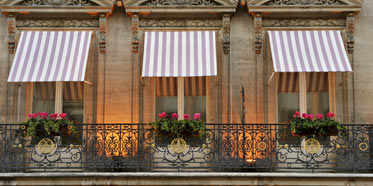 A member Of "The Leading Hotels Of The World," the Hotel Lancaster was originally built in 1889 as a townhouse in the style of the ancienne regime for Monsieur Santiago Drake Del Castillo, a Spanish nobleman. Over the centuries, with enlargements and refurbishments, the Lancaster has retained its sense of elegance and history; the...
Relais Christine
| Paris, France

Three centuries after the foundation of the Saint-Denis college of the Grands Augustins by Saint-Louis in 1231, the vast town mansion now housing the Relais Christine was built. Within a stone's throw of the Louvre and Notre-Dame, the hotel is located in the heart of Saint-Germain-des-Pres, a bustling district famous for its intellectual...