The Best Boutique and Historic Hotels in Paris

It is no shock that the city known for its boutqiue shops and businesses offers some of the best boutique hotel properties as well. Paris is a destination not just for tourists but business travelers, couples, friends and even locals as well. Those travelers looking for intimate and luxurious hotel properties that distinguish themselves from the larger resorts or chain properties, need to look no farther then these boutique and historic properties listed below. All of these hotels in Paris, France will offer the highest level of service and amenities whether you are a business traveler looking for something more unique then the convention hotel or honeymooners looking for something classic and stylish.


Pavillon de la Reine
| Paris, France

A deeply romantic hideaway on the magical Place des Vosges in Le Marais, La Pavillon de la Reine & Spa is a luxury boutique hotel in the oldest quartier of the city. Situated in the heart of Paris, the privately-owned and family-run hotel offers the service, charm and elegance of a grand palace - with all the understated sophistication...
Five Star Alliance Perk:
Reservations booked under the "5 Star Signature Package" rate will also include full breakfast for each guest daily, a 50 Euros spa credit per room/per stay, and a welcome bottle of wine in-room on arrival.
Saint James Paris
| Paris, France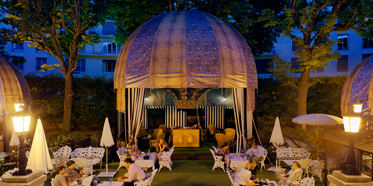 This grand neo-classical mansion was built in 1892 on Paris' first airfield from where hot air-balloons used to take off, to be a foundation hosting the French students. After a hundred years, it became the very exclusive Saint James Club as well as the only chateau-hotel of the capital, offering tailored services to each guest....