Best Business Hotels 2014

When you have to suit up, you'll want to check out our list of the world's best luxury hotels for business travelers. These deluxe business hotels are at the top of the list and offer meeting space, ballrooms, Wi-Fi, business centers, rental or complimentary computers and iPads, catering, and dedicated business concierges. No matter the size of your meeting, there's a space for you. Choose from rooftop terraces, bowling alley bars, traditional state-of-the-art meeting rooms, and ballrooms. Plus, at these five-star hotels, pampering is the new business amenity. Mobile computing means a conference call can be had at a high-end spa or even by the pool. Fitness centers can help executives stretch out after meetings, and wining and dining clients can be done at the fine dining establishments inside these luxury hotels. If you need to mix business with pleasure, many of the world's best business hotels offer amenities and activities for the whole family. Special touches such as translation services, round-the-clock dinner menus for jet-lagged guests, personal trainers, transportation services, and the latest technology, all coupled with service standards that make these hotels the best in the business all round out your experience.


Jumeirah Emirates Towers
| Dubai, UAE

Jumeirah Emirates Towers located on Sheikh Zayed Road is in the centre of Dubai's commercial business district and a highly visible statement of the region's corporate success. Two equilateral triangles are architectural icons one of their kind in Dubai. Jumeirah Emirates Towers consists of a 350-metre office tower and a 305-metre...
Five Star Alliance Perk:
Reservations booked under the "5 Star Signature Package" rate will also include full breakfast for two daily in the Mundo restaurant and a 30 minute massage for up to two guests once during the stay.
The Peninsula Shanghai
| Shanghai, China

The Peninsula Shanghai offers 235 supremely comfortable rooms including 44 suites. Inspired by the Art Deco period and Golden Age when Shanghai was the Paris of the East, this stylish hotel provides a glamorous setting together with breathtaking views of the Bund, Huangpu River and Pudong. Premier suites such as Palace Suite...
Five Star Alliance Perk:
Reservations booked under the "5 Star Signature Package" rate will also include full breakfast for two daily dinner for two at The Lobby.
Tower Club at lebua
| Bangkok, Thailand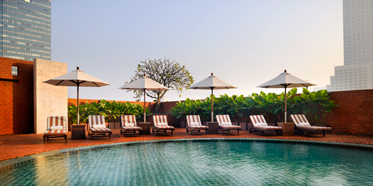 Tower Club at lebua is a luxurious five-star hotel in Bangkok, one where every moment is memorable, personal, and exceptional. The hotel was named the World's Leading Luxury All-Suite Hotel at the World Travel Awards. On the 51st through 59th floors, the views from the 221 gigantic suites are even more extraordinary, the separate...