Von Trapp Family Villa: Home from The Sound of Music Opens as Hotel, Salzburg
---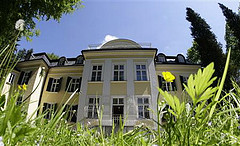 Fans of "The Sound of Music"-- and there are many,
as the flick is the third most successful of all time
, bested only by "Gone With the Wind" and "Star Wars"-- will be happy to learn that the von Trapp family's house in Salzburg, Austria will open on July 25, 2008 as a 14-room hotel.
As reported by Goldarths Review
, "For 100 euros (or US$155) a night, visitors will have a chance to relive scenes from the movie. Sip coffee at the gazebo where Liesl, eldest daughter of the von Trapp family and her boyfriend Rolf had a secret rendezvous or dine at the von Trapp family table."
---