Travel to Doha: The Jean Nouvel-Designed National Museum of Qatar
---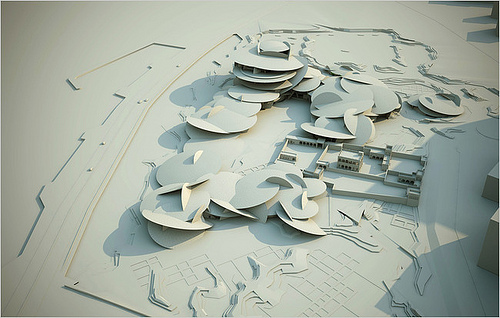 Travelers to Doha will soon be able to experience a magnificent new museum that's destined to become a pilgrimage destination for architourists. Back in March, Pritzker award-winning architect Jean Nouvel unveiled his design for the National Museum of Qatar at a buzzed-about event at the Museum of Modern Art in New York.
Described by The New York Times as perhaps
"the French architect's most overtly poetic act of cultural synthesis yet," the museum will reflect the traditions of Qatar's Bedouin people. (Nouvel has embraced Middle Eastern culture in some of his other landmark buildings: the Arab World Institute in Paris, a branch of the Louvre in Abu Dhabi, and an office tower in Doha,
"sheathed in aluminum latticework and capped by a filigreed, mosquelike dome."
) The Qatar government is currently pursuing a strategy of encouraging "the exchange of cultural traffic-- between East and West, tradition and modernity" and this museum, along with I.M. Pei's Museum of Islamic Art, is part of the effort. Nouvel's museum will be comprised of interlocking discs of different dimension, said to be inspired by sand roses, "the tiny formations that crystallize just below the desert's surface." Surrounded by desert landscaping,
the museum will have
86,000 square feet of permanent gallery space, 21,500 square feet of temporary gallery space, a 220-seat auditorium, a 70-seat food forum / TV studio, two cafés, a restaurant and a museum shop.
Planning a trip to Doha and looking for hotel recs? Browse Five Star Alliance's portfolio of hotels for suggestions.
---