The Rocco Forte Suite Experience: Exclusive, Complimentary Services at European Hotels
---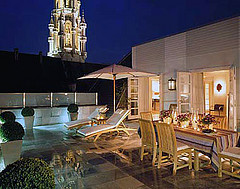 Announcing a brand new Suite Experience from the Rocco Forte Collection, the preeminent luxury hotel group in Europe. When you check into a suite at a Rocco Forte hotel, you will be entitled to a slew of exclusive benefits. (As if experiencing the sumptuous suite, beautifully designed with bespoke artwork and furnishings, wasn't enough of a treat.) Now you'll also get
in-room check-in, complimentary breakfast for two, complimentary packing and unpacking, and complimentary use of a mobile phone for all local calls.
Plus, you can enjoy free Internet access, in-house movies and dry-cleaning upon arrival. Whether you stay
in Rome at the perfectly-located
Hotel de Russie
, Florence at the stylish
Hotel Savoy
,
St. Petersburg
, Edinburgh (at the
historic Balmoral
) or the
European capital of Brussels
, your stay in a Rocco Forte suite will be unforgettable.
---