The Qasr Al Sharq: True Arabian Splendor with VIP Arrival at the Jeddah Airport, Penthouse Women's Spa, and Personal Butlers
---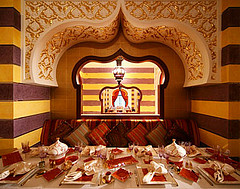 We told you
this place was swanky. The
Qasr Al Sharq
, otherwise known as the "Palace of the Orient," was
recently written up
as a "boutique hotel for the billionaire."
There are 130 pounds of gold leaf applied throughout the hotel, 600-thread-count sheets with gold embroidery on all the beds, and 220 staff – including a butler for each suite.
Situated on the Red Sea in Jeddah, Saudi Arabia, the Qasr Al Sharq hosts both business travelers and guests interested in making pilgrimages to Mecca and Medina. (The hotel can arrange religious guides to escort guests.) Managed by the Waldorf-Astoria Collection, the hotel is known for its extravagant Palace Suite which goes for $13,500 a night, and the breathtaking lobby that houses a Swarovski chandelier with 600,000 crystals hanging over the three-story circular staircase. Considering that many guests are Saudi families who come to Jeddah on royal court business, the facilities and business amenities are second-to-none: laptop computers and personal fax lines supplied to each guest.
---