Summer in Paris: What's On in the City of Light
---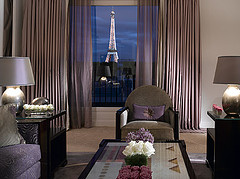 There's never a bad time to visit the French capital, but summertime brings a host of music concerts, the
Paris Cinéma festival
(showcasing a diversity of films in cinemas around the city from July 3-14), and the famous
Paris Plages
-- when urbanites flock to the sand along the Seine for serious sun-worshipping, replete with deckchairs, loungers, and umbrellas (July 19-August 20). Beach volleyball games take place on the sand court in front of the Hôtel de Ville.
Stop by the George Pompidou Centre, which celebrates its 30th anniversary with cutting-edge exhibitions. Stroll down Champs-Élysées and indulge in an ice cream break at the new international showcase for Häagen-Dazs. The three floor-establishment features a chic 200 seat terrace (the largest on this storied avenue), special tastings, cooking classes with the chefs, and the Ice Bäar on the top floor, where you can delight in ice-cream-based cocktails and take in panoramic views while listening to the DJ's sounds. Forget the Metro, the city now boasts a self-service bicycle lending program called Vélib', so you can navigate your way through Paris's magical streets, taking in the architecture and diverse districts-- all for free!
Let's not forget Les Soldes, when even the most bashful of Parisians hit the streets in a frenzied shopping spree. In July, the summer sales dazzle bargain hunters and fashionistas who can score impressive discounts of up to 70 percent off in the city's luxurious establishments. Treat yourself to a new chic French wardrobe (totally guilt-free!)
Make like Carrie Bradshaw and book a room at Hotel Plaza Athénée, the elegant landmark hotel which has become synonymous with Parisian style. Splurge on a meal at the hotel's award-winning restaurant, overseen by world-renowned Chef Alain Ducasse.
PS. Giorgio Armani's new luxury boutique-- a minimalist space with onyx walls, black Plexiglass ceiling, and grey silk wall murals-- is located right across the street on the avenue Montaigne.
---