Spotlight On: Capella Schloss Velden and the New Breed of Luxury Hotels
---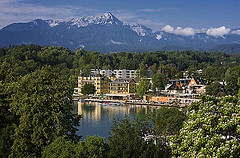 "Could the grand hotel of yesteryear be dead?" So begins Sunday's article in the
New York Times Travel magazine
, describing the plethora of new hotel brands to hit the scene recently:
At a time when travelers are spoiled for choice, the one-size-fits-all approach of traditional big-hotel service is giving way to ever more tailored experiences. And hotel companies are adapting not by making themselves over but by introducing new brands: 40 in about as many months, including offshoots of major players like Hyatt, expansions from the likes of Gansevoort and the Fountainbleau, and fledgling chains like SLS and Missoni.
One of the highlights of the article? The Capella Schloss Velden-- where there is a "restaurant that will open for you in the middle of the night." Horst Schulze, visionary behind the new Capella brand, is quoted as describing the "little service processes" that represent the new paradigm of luxury hotels. Guests don't want stiff formality, but they want to be taken care of. An incredible innovation of the Capella Hotels? Doing away with check-in and check-out times, "a notion historically based on what's easy for the hotel." To quote Schulze: "Why do we force the customer to do something that's convenient for us? We should have seen this long ago."
---