Secretary Clinton Checks In to Jerusalem's King David
---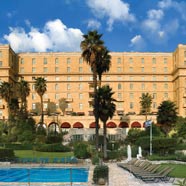 After a tough day of negotiating peace in the Middle East, where does Hillary Clinton lay her golden locks down to sleep? At the
King David Hotel
in Jerusalem, of course. The former First Lady and Senator turned Secretary of State stayed at the luxury hotel on her first official visit to Israel.
King David Hotel
has played host to many a celeb, and made headlines of a different sort in 1946,
when it was bombed by a Zionist group.
The rest of her sizable entourage could give some rappers a run for their street cred. The Clinton group took up a whopping 154 of the 203 rooms. No word on whether she took advantage of the poolside dining or why Clinton stayed in the Royal Suite, not the Presidential Suite.
---