Sailing Week in Antigua and a Blissful Stay at Carlisle Bay
---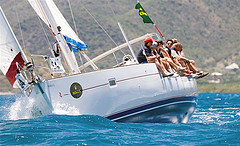 Think ahead to a Caribbean getaway this spring. The place to be in April is the island of Antigua, when the most prestigious yacht regatta in the Caribbean (and one of the most famous in the world) lures racers and revelers to its tropical shores.
The Stanford Antigua Sailing Week
starts on the last Sunday of the month (April 27, 2008) and runs through Saturday, May 3. Sailors and spectators from all corners of the globe converge to watch the 200 yachts go head to head in five challenging days of racing in some of the best sailing conditions found on the globe.
The island's best luxury lodgings are found at Carlisle Bay
, that cool contemporary hideaway that exudes chic sophistication in every detail. The setting is stunning on the unspoiled beaches on the island's south coast, and the amenities even more so: state-of-the-art gym, exceptional spa, enormous ocean-facing suites, recreational facilities galore, the new Cool Kids Club, and the only private screening room in the Caribbean for nightly movie showings.
---