Oman's Al Bustan Palace Stages a Mouth-watering Re-opening
---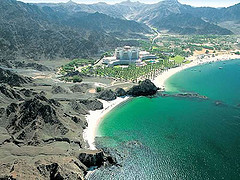 The wait is over.
Al Bustan Palace Hotel
has re-opened to the public after a year-long renovation. The multi-million dollar renovation of the luxury Oman property means that guests can once again stay in comfort as they tour the must-see sights like Sultan Qaboos Grand Mosque, Bait Al Zubair Museum and Al Alam Palace. And trust us, you won't go hungry.
Al Bustan Palace Hotel
has a whopping five restaurants to choose from. VUE by Shannon Bennett showcases the contemporary French cuisine of Chef Shannon Bennett. Chef Bennett has been voted Best Chef, and his restaurant, Vue de Monde, Best Restaurant in Australia. Dine in true outdoor Omani Bedouin Village style at Seblat Al Bustan. Dine on fish, stews and meats perfectly seasoned with a combination of Indian and African spices. The Beach Pavilion restaurant bar and lounge offers lighter fare like fresh grilled fish to those enjoying the sun and surf. China Mood offers a variety of Chinese cuisine prepared by our Chinese kitchen brigade. Or dine in Al Khiran Terrace and choose from an extensive buffet of Asian, French and Italian dishes. Bon Appetit!
---