Ireland's Hayfield Manor Gifts You With a Special Holiday Offer
---
Have your fantasy Christmas, whether its for the hectic holiday shopping season or for the holidays themselves.
Hayfield Manor Hotel
in Cork Ireland has a variety of special offers for this December. Don't let the stress of holiday shopping get to you! Take advantage of
Hayfield Manor's
Christmas Shopping Break;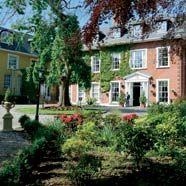 after a full day of shopping come back and enjoy a fabulous dinner at Perrotts Garden Bistro and return to your luxurious room to relax. Don't worry about getting up early either, enjoy a delicious breakfast and late check out until 1:30 pm. Cork has many boutiques and high end shops for you to get everything on your list.
Hayfield Manor also has a variety of festivities planned for guests taking advantage of a three night stay over Christmas. Christmas Eve means afternoon tea by the fire with a choir getting you in the mood with festive carols. Enjoy an extravagant dinner in Orchids Restaurant, and later have mulled wine and minced pies before retiring to await Santa's arrival! You'll hardly be able to resist the amazing Irish breakfast buffet available on Christmas morning, followed by a Champagne reception and Christmas lunch. Santa will make a stop by later in the afternoon, to delight your younger guests. Gather your family for a delicious Christmas buffet for dinner. St. Stephen's Day offers a festive St. Stephen's Day Jazz Brunch, leaving you the rest of the day to explore Cork. This holiday season will sure to be one to remember, and with no stress of travel, you can sit back and enjoy the time with your loved ones at Hayfield Manor.
---