Hotel Lumen: Summer Opening in Paris
---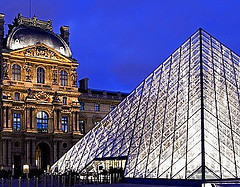 Any day now, Paris will welcome its latest luxury boutique:
Hotel Lumen
. Behind a Haussmanian façade (
like Hotel Fouquet's Barrière
), the hotel will combine contemporary and baroque styles. Created by architect Alain Daronian and designer Claudio Colucci, the hotel's central design concept is the importance of light (from which it derives its name). What could be more appropriate in the
City of Light
! Situated smack dab in the center of Paris, the Hotel Lumen will be a stone's throw from the
Louvre
, the Place Vendôme, and all the mythological treasures of the 1st arrondissement. Of the 33 guest rooms, choose from the
St. Roch
single rooms (with views of the stained glass windows of the beautiful St. Roch church), the
Pyramides
double or twin rooms, the
Lumen
rooms (with lots of light), and the beautiful, luminous suites on the 5th and 6th floors. The on-site Parisian brasserie will serve delightful neo-classical cuisine inspired by Frédérick Grasser-Hermé, the acclaimed cookbook writer.
---