Harry Potter-esque Hotels
---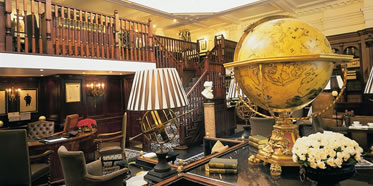 I might be the only one in the world who hasn't read the Harry Potter books. Does that make me a criminal? Perhaps, but I'm the kind of guy who doesn't want an excellent book to ruin a good movie, so I'm biding my time. But let me tell you, I love those Harry Potter movies. Love 'em! And while they may not immerse me in the world of Potter quite as much as reading Lady J.K. Rowling's words, it will have to do for now.
Yet just as the last book was written, the last movie is nigh on the horizon. In June, the adventures of Harry, Ron, and Hermione will grace the silver screen for the last time. So I started thinking (always dangerous), where can I continue the adventure in real life? Which of the world's most luxurious hotels are the most Harry Potter-esque, and perhaps can give me a nice place to read those books once and for all?
The first one to come to mind was the easiest. The Portofino Bay Hotel at Universal Orlando, a Loews Hotel. While the romantic setting of an Italian fishing village might not bring to mind Hogsmeade in all its glory, it will allow you front of the line access to Universal Studio's Islands of Adventure amusement park, home to the Wizarding World of Harry Potter.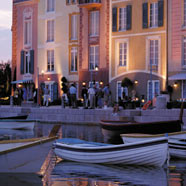 This themed land is torn directly from the pages of the Harry Potter opus, and in fact was personally approved to the last detail by Rowling herself. And with the Loews brand giving world class luxury and service, the Portofino Bay Hotel is worth its weight in Fizzing Whizbees.
The next stop on the tour of all things Potter might lead to downtown London, a place teeming with wizards and muggles alike. Therefore staying at 41 might be in order, a place that has the market cornered on quiet charm. You can have your own chamber of secrets at 41, and if you must eat a pumpkin pasty, please use a napkin!
Finally, use a little floo powder and head for the north of England towards Newcastle. While enjoying a Geordies footie match, you can slip out to the beautiful Alnwick Castle. On that very ground is where Harry Potter first learned to fly his broomstick, the filming location for Hogwarts Castle. Here you'll stay at the delightful White Swan — Bondgate Within Alnwick, just outside of Newcastle. You will be transported, literally, to a place that you've imagined a million times.
So while the film adventure might be coming to an end, your Harry Potter adventure is just beginning!
---