Guggenheim to Open New Museum in Abu Dhabi
---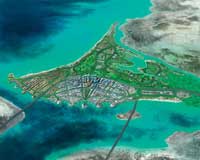 Another reason why Abu Dhabi is shaking things up: the Guggenheim Foundation has recently announced plans to open a museum in the capital city of the United Arab Emirates. The new museum will be the biggest and most ambitious yet: 300,000 square feet designed by super-star Frank Gehry, 25 percent bigger than the Guggenheim Bilbao in Spain.
The museum, to be called the Guggenheim Abu Dhabi, would house Modern and contemporary art and serve as the linchpin of a sprawling development in a new cultural district of Saadiyat (Arabic for "isle of happiness"), a 10-square-mile natural island just off Abu Dhabi.
The new museum is slated to open in 2011.
Related Articles:
New York Times, "Guggenheim Foundation and Abu Dhabi Plan Museum There"
CBS News, "Guggenheim to Build Museum in Abu Dhabi"
The Informed Traveler, "Move Over Dubai: the Marvelous Makeover of Abu Dhabi"
---