Free Stuff at the Four Seasons Resort Nevis, Caribbean
---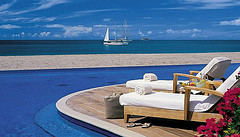 It's that time of year again. The sparse weeks between Thanksgiving and Christmas, when the temperatures keep dropping and we find ourselves
"cubicle dreamin."
The locale of choice? Any old tropical paradise will do, as long as it's surrounded by crystal clear water and lots of silken sand. But here's a deal that could turn those day-dreams into reality: the deliciously luxurious
Four Seasons Resort
on the Caribbean island of Nevis is offering a resort credit to guests who choose to head south between now and December 14, 2007.
Lucky guests will get $100 a night,
which they can use at the restaurants, island golf, or award-winning spa. You'll also get a complimentary upgrade, based upon availability. Two-night minimum stay required.
---