Five Star at the Movies – Week of Dec 14-20, 2009
---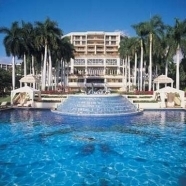 This weekend at the North American box office, two new films are opening in wide release to tantalize viewers, and another lauded film has just arrived on DVD. So without further ado, here are some recommendations for where to stay if these movies inspire you to hit the road!
First up, for fans of such disparate titles as Titanic and Terminator comes James Cameron's latest, Avatar. This big-budget extravaganza is set in a new and distant world, one that is currently devoid of luxury hotels... But filming for this special-effects driven masterpiece took place, in part, in a place a bit closer to home: Hawai'i. For your next trip to the islands, try the paradise-on-earth bliss of Grand Wailea Resort Hotel and Spa in sunny Wailea, Hawai'i. You may not see alien creatures teeming about, but you'll certainly enjoy a luxury golf, dining, and spa resort that is out of this world!
For those interested in a slightly different approach, the romantic comedy Did You Hear About the Morgans? stars the always appealing Hugh Grant and Sarah Jessica Parker. The film finds our heroes witnessing a murder in New York City before entering the witness protection program in rural Wyoming. One of America's most beautiful states, Wyoming is the kind of backdrop that inspires open mouth stares at the beautiful power of its wilderness. To take it all in, visit the Snake River Lodge and Spa in Teton Village. This resort will put you at the foot of the Grand Teton mountains, with unrivaled panoramas.
Finally, new on DVD this week comes Quentin Tarantino's latest, Inglorious Basterds. This sometimes gruesome movie recounts the tale of a rogue band of heroes fighting against the Axis powers during World War II. The German backdrop has certainly changed a lot since the early 1940s, and there are plenty of luxury hotel options. One such place is the Schlosshotel Im Gruenwald in Berlin. This is one of Berlin's finest luxury offerings, and will tempt the traveler with its classic European style, as the Schlosshotel is set in a historic castle.
---