Etihad Airways' Luxury Pearl Zone
---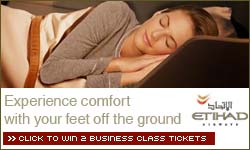 Abu Dhabi is emerging as a bright, thriving, cosmopolitan city with lush green parks and a bustling commercial hub and Dubai claims it is "the City built for Tourism all around the year." With these two major cities, and others, the United Arab Emirates continues to consistently top "Best of" lists for its attractions, business, and accommodations. In addition to the impressive number of super-luxury hotels, the United Arab Emirates features
Etihad Airways
as its National Airline. With three Guest Zones on each flight for passengers to choose from - Diamond, Pearl or Coral - there are new levels of comfort and luxury for travelers.
Etihad's Pearl Zone guests enjoy luxurious seating, extensive entertainment options, ambient mood lighting and signature cuisines. The new Pearl Zone seat (pictured) reclines 180 degrees into a fully flat 6 ft and 1-inch Business Bed. The Pearl Zone seat offers plenty of space and privacy with an 88-inch pitch and direct access to the aisle. A built-in massage facility helps passengers relax. Learn more about the Pearl Zone entertainment, communication, dining and service here.
Until July 28th, click here to enter your contact details for a chance to win 2 tickets to any Etihad destination - with over 43 international destinations across the Middle East, Asia, Africa, Europe, Oceania and North America - you're sure to find somewhere you would like to travel in comfort and style.
---