Dubai To Build the World's Largest Hotel
---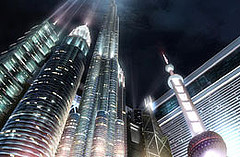 Surprise, surprise. On the site of what will become the world's longest hotel strip. The US$27 billion tourism development, called Bawadi, is to cover a measly 139 million square feet smack in the middle of Dubailand, and will alone double the number of hotel rooms available in the UAE:
The project was unveiled by His Highness Sheikh Mohammed bin Rashid Al Maktoum, Vice President and Prime Minister of the UAE, and Ruler of Dubai, and is intended to help Dubai accommodate the 15 million tourists it aims to attract by 2012.
What exactly will the tourists be doing, flocking to Dubai? Checking out the other tourists on the 10 km strip stuffed with 31 hotels?
---

Related Hotels