Dubai Alternatives: Beautiful Bahrain
---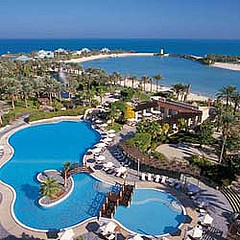 While Dubai has become marked by unceasing construction (the hotels cropping up at an increasingly frenetic pace), the Gulf-facing country of Bahrain boasts similar awe-inspiring landscapes and pleasant climate. As suggested by the savvy travelers at The Observer:
Being an early adopter of a new destination can dramatically reduce your bill. Rather than glitzy Dubai, for example, consider the island of Bahrain. It has many of the same qualities (and fewer cranes) and is still looking to entice tourists rather than profit from them.
The Ritz-Carlton, Bahrain Villas and Spa is the natural choice for luxury travelers. Situated on the north coast of Bahrain on the seafront of Manama, the 245-room hotel is located within a lush 20-acre urban resort complex which boasts its own private island. The newly-renovated rooms feature panoramic ocean views overlooking the Arabian Gulf. White sand beach, indoor and outdoor swimming pools, gorgeous spa with Thalassotherapy pool, kid's club, and nine restaurants and bars… the Ritz-Carlton Bahrain's got it all.
---