Dispatch from Paris: Hotel Le Bristol Gets Bigger and Better
---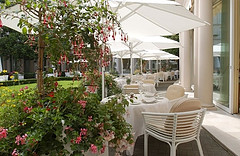 Here's the scoop from one of the finest luxury hotels in the City of Light, "the intimate palace" located on the fashionable
Rue du Faubourg Saint-Honoré
. After closing in January 2007 for work on a new extension,
Hotel Le Bristol
has recently debuted a lavish makeover. Guests have long adored the hotel's glass enclosed roof-top swimming pool and expansive, beautiful garden.
What's new?
22 redecorated rooms (including the Penthouse and Panoramic Suites), new welcome desks for Concierge and Reception, more spacious fitness room, brand new Hammam, and a new 460 square meter kitchen for Chef Éric Fréchon to continue to dazzle diners. And it only gets better. The hotel has acquired an adjoining building which will open in November 2007 with 23 new rooms and four new suites and a restaurant and grill room accessible directly from the
Rue du Faubourg-Saint-Honoré
.
PS. With the new VIP Welcome for Children, Hotel Le Bristol is paradise for the kiddies. Since April 1, 2007, children receive a special welcome at Hotel Le Bristol with a personalized book at reception, and the Hippolyte bunny (named after the hotel founder) along with a selection of complimentary bunny-shaped cakes waiting in-room. A hotel scavenger hunt and special activities can also be arranged. Not to mention the take-home goodies.
---