Dispatch from Paris: A Behind-the-Scenes Look at Le Royal Monceau
---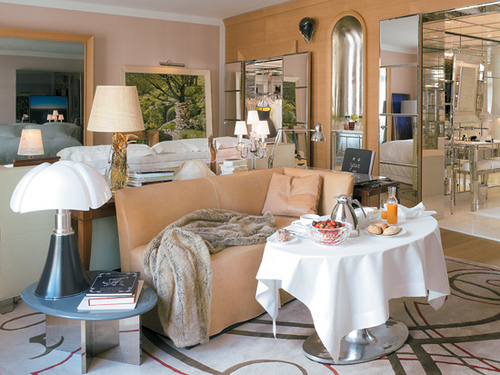 The talk of the town in Paris is the re-opening of
Le Royal Monceau
, the legendary palace hotel that recently emerged from a dramatic renovation by designer Philippe Starck.
The Informed Traveler
went behind the scenes before the official opening date to check out
the property
, now operated by Raffles. And we're totally smitten. This could easily be one of the hottest hotel openings around the globe this year. Here's what we loved: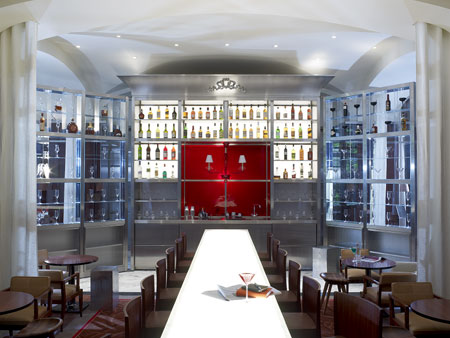 A thoughtful and eclectic design scheme. Inspired by the working studio of André Malraux, each spacious guest room is equipped with a guitar, haute couture walk-in closet, and a map highlighting Starck's favorite Paris addresses.
Desserts by Pierre Hermé. Enough said.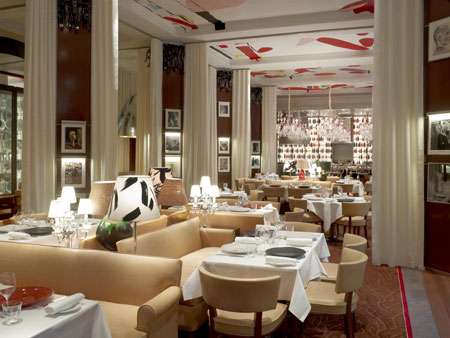 A movie theater that puts iMax to shame. Built for major film premieres and private screenings, the 100-seat cinema has divine leather seats, high-tech projection equipment, and a decadent snack menu, including gourmet popcorn recipes dreamed up by Hermé himself. Can we say celeb central?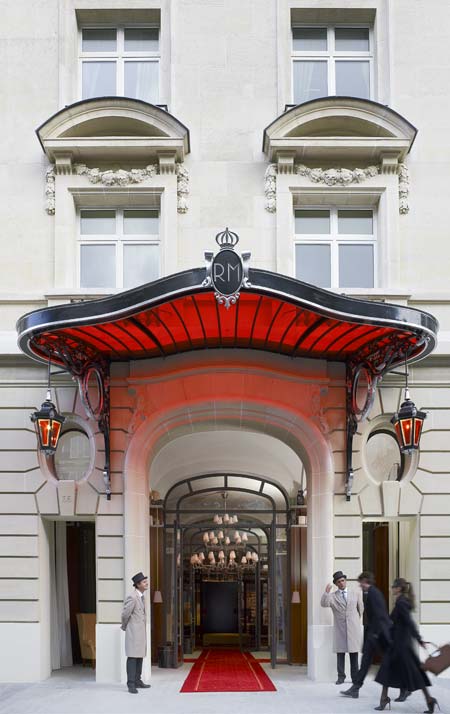 An impressive contemporary art collection in the hotel's public spaces. The on-site contemporary art bookstore boasts screens which broadcast live feeds of international art auctions. There's even an Art Concierge on staff.
The cigar lounge, painted in bright red, with 50 private cigar boxes outside, reserved for cigar-lovers to store their favorite cigars for the next visit.
Restaurants which are destined to become top addresses in the French capital. Both La Cuisine and Il Carpaccio boast talked-about decor (a chandelier made from shells in the Italian resto, a colorful ceiling painting called "Le Jardin de Paris" adorns La Cuisine).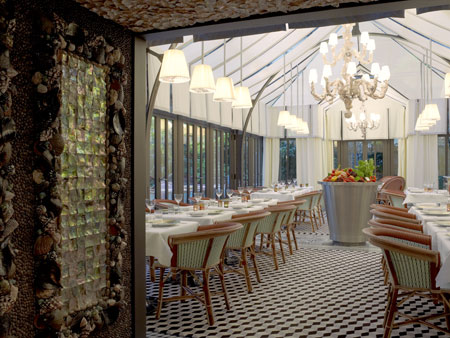 A central garden with a giant tea-pot sculpture designed by Portuguese artist Joana Vasconcelos. This garden is a magical space available for al fresco meals in the summer months. It's also got a neat pond with views- through sheer glass- of the spa swimming pool below. In another part of the hotel, there's an organic garden where the chefs grow herbs and produce for the restaurants.
Coming soon: an outpost of the trendy L'Eclaireur concept store. *Swoon*
Note: The spa-- My Blend by Clarins-- won't be open til next year.
---