Chic and Choc Picnic, Ice Cream Trolley, and Summer Cocktails at Hotel De Crillon, Paris
---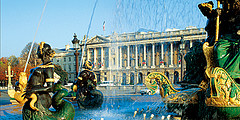 The patio has re-opened at the
Hotel De Crillon
, the majestic palace hotel located on the world-famous Place de la Concorde in the very heart of Paris. And the
picnic baskets are once again in season.
The new 2008 picnic comes in two "flavors." Choose "Chic" and you'll be delighted by dishes like a Duck confit foie gras sandwich, Bellevue salmon with sauce verte, strawberry and rhubarb charlotte-- all the flavor sensations created with Chef Jean-François Piège's composed chic. On the other hand, "Choc" will awaken flavors from your childhood: Sardine/Vache Qui Rit, the famous Egg Mimosa and Petit Lu biscuits with Nutella and rasberries. Kids will have a mini-picnic of their own, consisting of ham/Russian salad, cold chicken with mayonnaise, potato chips and an ice cream cornet. Plus, they'll get a surprise gift from the Crillon. On the Patio, you can also enjoy the summer creations of the hotel's head barman including milkshakes and tasty, fruity cocktails. During the summer months, there is also an
ice cream trolley
at the
Hotel De Crillon
, ready to satisfy your sweet cravings!
---