Business or Pleasure at the InterContinental Grand Mumbai
---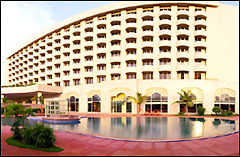 Intercontinental The Grand Mumbai
offers an exotic stay in culturally-rich India. Located close to the international airport and a few minutes drive from Mumbai, the area offers plenty of activities to do during your vacation. Some activities include visits to the Elephant Caves, shopping, and the fairgrounds close by. The
Grand Mumbai
offers seven floors of luxurious guest rooms complete with kitchenette, mini bar and complimentary buffet breakfast. The hotel also offers amenities such as an outdoor pool, sauna, and whirlpool. There is also a babysitting service if you need to get away and take some personal time. The Grand Mumbai is also an excellent place for your next business conference with several exquisitely decorated conference rooms and a fantastic ballroom for business receptions or other formal events.
Intercontinental The Grand Mumbai
is the perfect place for your next vacation or next business trip.
---